WATERLOO, Ont. (Friday, May 31, 2013) — Researchers from the University of Waterloo and McMaster University received $5.7 million in funding today to study how to make the use of drugs more effective for patients and health-care professionals.
The funding, provided by the Ontario Ministry of Health and Long-Term Care (MOHLTC) through the Health System Research Fund program, allows researchers across Ontario to study the effectiveness of provincial pharmacist-led medication programs. The team's goal is to study the quality, outcomes and value of pharmacist services and improve medication use.
"Pharmacists are Ontario's third-largest group of healthcare professionals and the health ministry has gradually expanded pharmacist's role in medication management to provide more patient-focused care," said Professor Nancy Waite from Waterloo's School of Pharmacy. "The generous provincial support announced today will help institutions across Ontario study how pharmacist services can improve medication use and patient health outcomes as well as realize savings for our healthcare system."
The Honourable John Milloy, member of provincial parliament for Kitchener Centre, announced the funding today at the University of Waterloo's School of Pharmacy.
"This is a very exciting time for university research communities in our region and across the province. The new Health System Research Fund Program Awards will provide our scientific teams with the financial stability and the research capacity required to tackle key challenges facing our healthcare system," he said.
The grant will go towards the Ontario Pharmacy Research Collaboration — termed OPEN — a new interdisciplinary research program led by Professor Waite, and Professor Lisa Dolovich, of the Department of Family Medicine of McMaster's Michael G. DeGroote School of Medicine.
"Spending on drugs is the second largest expense in the province, and to keep healthcare costs affordable we need to better understand and manage medication use," said Professor Dolovich. "Ontario has spent more than $120 million on new pharmacist services. Our research will assess the effectiveness of these services and determine what barriers and facilitators are in place so people make the best use of them."
Project investigators at Waterloo and McMaster will be joined by others from Western University, University of Toronto and the Bruyère Research Institute, a partnership of Bruyère Continuing Care and the University of Ottawa, to conduct the three-year research projects.
"Waterloo is proud to partner with institutions from across Ontario to carry out research in the ways in which we might address some of the challenges facing our healthcare system," said Professor Terry McMahon, dean of the Faculty of Science. "We thank the Government of Ontario for its support of this valuable work."
The program is officially titled "Fostering innovation and evaluating the effectiveness of Ontario pharmacist-led medication management programs." It will evaluate Ontario's MedsCheck and Pharmaceutical Opinion programs, introduced in 2007 and 2011, as well as legislation introduced in 2012 to allow pharmacists to give influenza vaccines and the authority to renew and adapt prescriptions programs.
OPEN will also conduct pilot studies with pharmacists to evaluate potential pharmacist services such as chronic pain management and deprescribing guidelines — with the goal to reduce and simplify long-term medication use in the elderly and individuals in rural areas.
The project will provide training in health services research by mentoring students, postdoctoral fellows and junior faculty as they learn from and network with senior researchers and OPEN's key partners: MOHLTC, the Ontario College of Pharmacists and the Ontario Pharmacists Association.
Those interested in learning more about OPEN and its pharmacy practice research training opportunities can contact OPEN at open@uwaterloo.ca.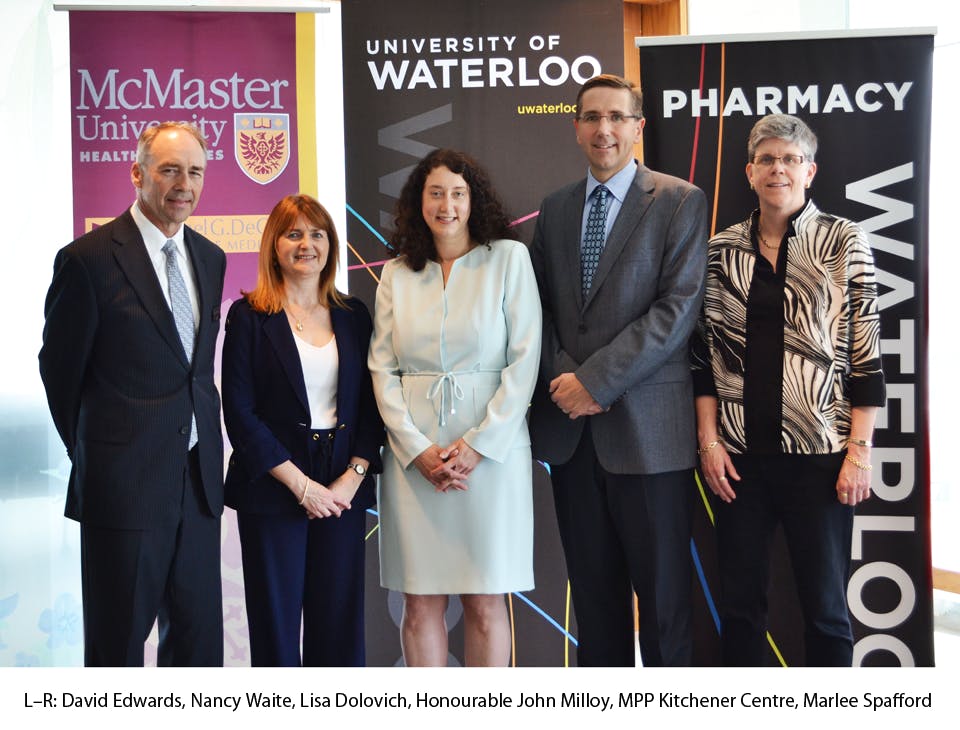 About the University of Waterloo
In just half a century, the University of Waterloo, located at the heart of Canada's technology hub, has become one of Canada's leading comprehensive universities with 35,000 full- and part-time students in undergraduate and graduate programs. Waterloo, as home to the world's largest post-secondary co-operative education program, embraces its connections to the world and encourages enterprising partnerships in learning, research and discovery. In the next decade, the university is committed to building a better future for Canada and the world by championing innovation and collaboration to create solutions relevant to the needs of today and tomorrow. For more information about Waterloo, please visit www.uwaterloo.ca.
About McMaster University
McMaster University, one of four Canadian universities listed among the top 100 universities in the world, is renowned for its innovation in both learning and discovery. It has a student population of 23,000, and more than 156,000 alumni in 140 countries. For more information about McMaster University, please visit www.mcmaster.ca.
Media contacts
Pamela Smyth
University of Waterloo
(519) 888-4777
psmyth@uwaterloo.ca
www.uwaterloo.ca/news
Veronica McGuire
McMaster University
(905) 525-9140, ext. 22169
vmcguir@mcmaster.ca